Social events
Social dinner
The social dinner will take place on Wednesday 21 September at 19:30 at Casa dell'Aviatore (Viale dell'Università, 20 – 00185 Roma)
Dress code: formal (jacket and tie mandatory; no shorts).

The social dinner is included in the registration fee. Please confirm your participation at the secretariat desk by Tuesday at 18.00
Casa dell'Aviatore is in walking distance from the meeting venue.

Tuesday 20 September "Case Romane del Celio" (optional)
A guided tour of the "Case Romane del Celio" with an ancient Roman style buffet dinner will take place on Tuesday 20 September.
The cost for this special evening is € 45 per person.
There is a limited number of entrances still available. If interested, please contact the Organising Secretariat: info@jeangilder.it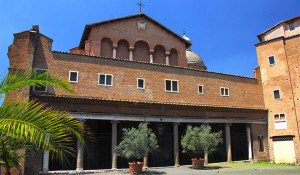 Case Romane del CelioRecently reopened to the public, it is an ancient Roman residential complex located
below the Basilica dei Santi Giovanni e Paolo dated around the time of the Emperor Constantine, 3rd century A.D. with beautifully preserved frescos.